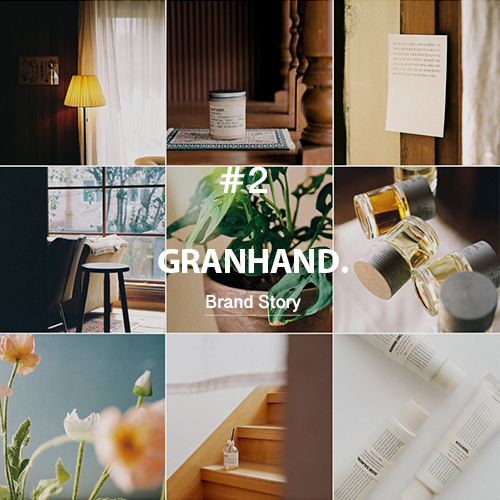 At the beginning of Granhand, when we discovered photos that foreign customers would upload once in a while, we were very appreciative and reposted them. We posted at least once a day every day for 3 years. When Monday came we planned what we would post for the week, go around to take photos, and on the weekends posted after taking an afternoon nap. At the time, Granhand had only two offline locations, so Instagram was our primary way of displaying ourselves, making us more desperate.
Then someday we surpassed 1000 followers and every time the first digit changed we captured and reposted it, telling ourselves we are doing a great job and celebrating. However, seeing other brands explode in followers, become hot trends, and become known brands, we were a bit envious. It seems like we all use the same easy method and nobody really thinks about it, but we did feel like we were falling behind.
However, obsessing over numbers or appearances seemed like we were just chasing an illusion. The moment we use money to buy recognition, everything we've done, what we are going to do, we did not think we could be proud of ourselves. A home easily built can also be easily brought down. With that in mind, we decided even if we take a long time and no one recognizes us, we are going to build a sturdy home.
So it took 7 years for 28,000 people to recognize Granhand. As a brand or even by oneself, 20,000 may be a low number. However, at Granhand we used our voice, our sincerity, our writing, and our words to reach this number so no one can take that away from us. During this time, we also feel like Instagram marketing has changed over time. It is more detailed and more indirectly incorporated into our daily lives that customers no longer know how much of it is real.
The fact that Grandhand has never advertised or promoted through media or celebrities is a huge pride of our team. You can create an image, but you cannot buy or change the path you've walked with money. Also, with this decision, the biggest thing we've earned is gratitude towards our customers. Like how we've shown our sincerity, our customers love us for who we are even with our shortcomings and always cheer us on. We are always thankful for them and also makes us wonder 'Why do they love us so much?' And the desire to repay their support is the driving force behind Granhand that makes work even harder.