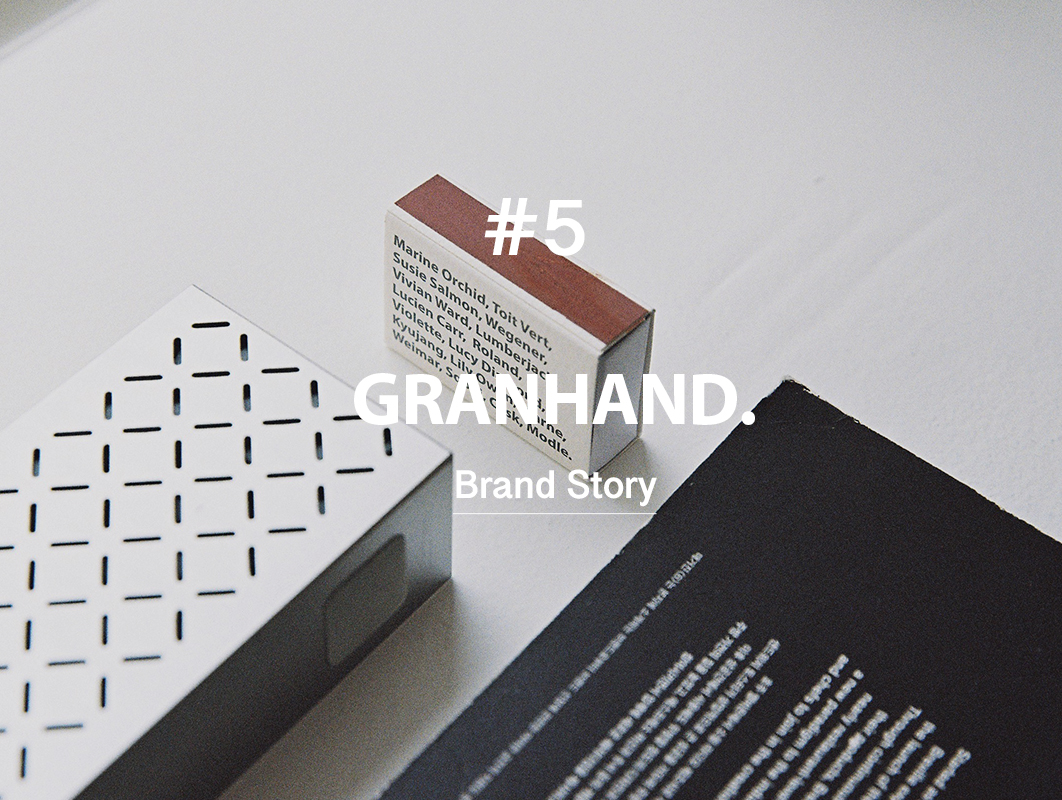 In the last brand story, we've mentioned that the most important aspect of GRANHAND's branding is 'the people we work together'. This is where you can realize how much we focus on 'human resources'. We hire people more carefully than many conglomerates and evaluate them stoically. During the internship that could take up to nine months, less than half of them have been promoted to regular members, and most of the interns give up by themselves within a month. It seems that the rumor has spread in the industry that 'it is very difficult to turn into a regular member at GRANHAND.' Then, why do we have to be so difficult?
GRANHAND think that the staffs that receive customers, introduce our products and sell them are everything about the brand experience and are the best advertising model. Each and every individual at GRANHAND and the synergy they create is the ultimate outcome of our branding. The chant everyone at our stores recites after morning meetings is 'let's become the best messenger for the best brand.' Since everyone has to act like a person that represents the brand, everything becomes a subject of evaluation. From head to toe, the way they speak and walk, small habits, the way they treat customers and their colleagues, and even the way they think need to meet the level that GRANHAND pursues. This is why if people just come around without a firm resolution, the experience at GRANHAND would be hard for them to endure, even for a week. With a high goal comes high expectations. The procedure can't help but be complicated and particular to meet the expectation, which creates a corporate culture that people can never relax even when their career builds up.
As we've mentioned many times in our brand story, GRANHAND has never taken the easy road or compromised on a moderate level. Our style might seem hard to understand or even arbitrary and irrational to some people. It's the same not only as a 'brand' but as a 'company.' What we have at GRANHAND now is the outcome of going through numerous trials and errors and focusing on one core advantage even if there were 99 problems and risks.
Walking on a path that nobody walks on is hard, takes a lot of time, is risky, and is inefficient. However, that path will become our unique story that never exists anywhere else, a message to someone and a big accomplishment and pride to our team members that have walked on the road with us. GRANHAND looks for those who will experience joy on our way and consumes the most time, expense, and energy to filter out those who are not ready for this kind of journey. We prefer people who take the initiative and set an example rather than show off their talent, perseverance rather than a mere kind mind, a sense of reality rather than their aptitude. We guess that it would not be too different for other companies and brands.
The standard demanded at GRANHAND might not be welcomed in the world these days. However, GRANHAND is a brand that wants to evolve without knowing the limit. A convenient and kind organization might be able to make everyone happy a little, but cannot improve the way of life. We don't want to lower the standard that we established through our experiences and mistakes just to go with the flow and avoid blame. The source of our confidence is Team GRANHAND. They are people who refuse to pursue the same value as others. They are the ones that chose 'the path that nobody walks on,' even in their private life.